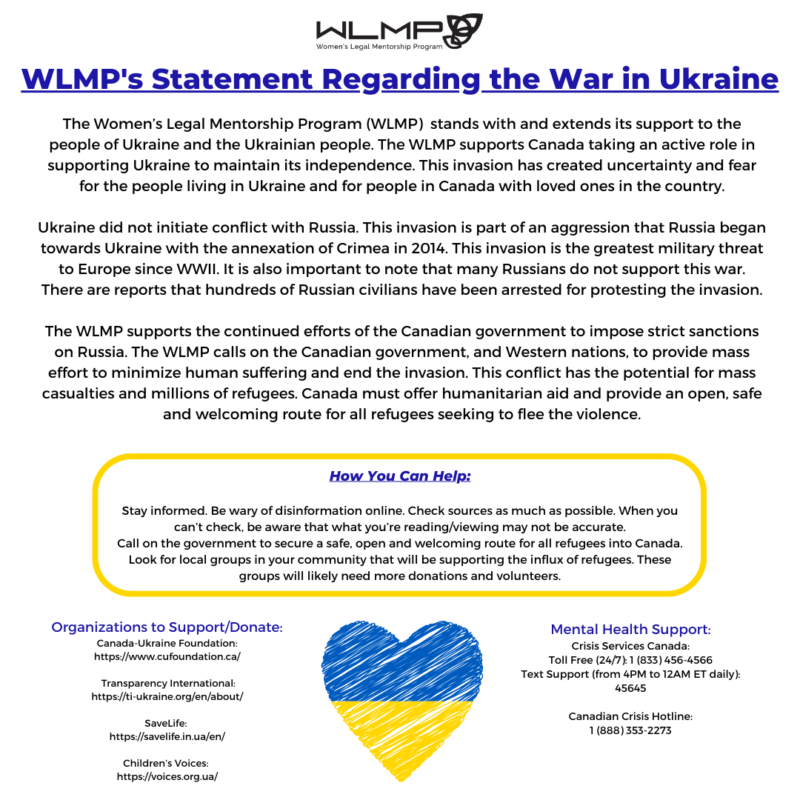 The Women's Legal Mentorship Program (WLMP) stands with and extends its support to the people of Ukraine and the Ukrainian people. The WLMP supports Canada taking an active role in supporting Ukraine to maintain its independence. This invasion has created uncertainty and fear for the people living in Ukraine and for people in Canada with loved ones in the country.
Ukraine did not initiate conflict with Russia. This invasion is part of an aggression that Russia began towards Ukraine with the annexation of Crimea in 2014. This invasion is the greatest military threat to Europe since WWII. It is also important to note that many Russians do not support this war. There are reports that hundreds of Russian civilians have been arrested for protesting the invasion.
The WLMP supports the continued efforts of the Canadian government to impose strict sanctions on Russia. The WLMP calls on the Canadian government, and Western nations, to provide mass effort to minimize human suffering and end the invasion. This conflict has the potential for mass casualties and millions of refugees. Canada must offer humanitarian aid and provide an open, safe and welcoming route for all refugees seeking to flee the violence.
How You Can Help
Stay informed. Be wary of disinformation online. Check sources as much as possible. When you can't check, be aware that what you're reading/viewing may not be accurate.
Call on the government to secure a safe, open and welcoming route for all refugees into Canada.
Look for local groups in your community that will be supporting the influx of refugees. These groups will likely need more donations and volunteers.
Organizations to Support or Where You Can Donate
Mental Health Support
Crisis Services Canada:

Toll Free (24/7): 1 (833) 456-4566
Text Support (from 4PM to 12AM ET daily): 45645

Canadian Crisis Hotline: 1 (888) 353-2273