Justice Canada and the Women's Legal Mentorship Program (WLMP) Annual Speed Mentoring in Partnership with Windsor Law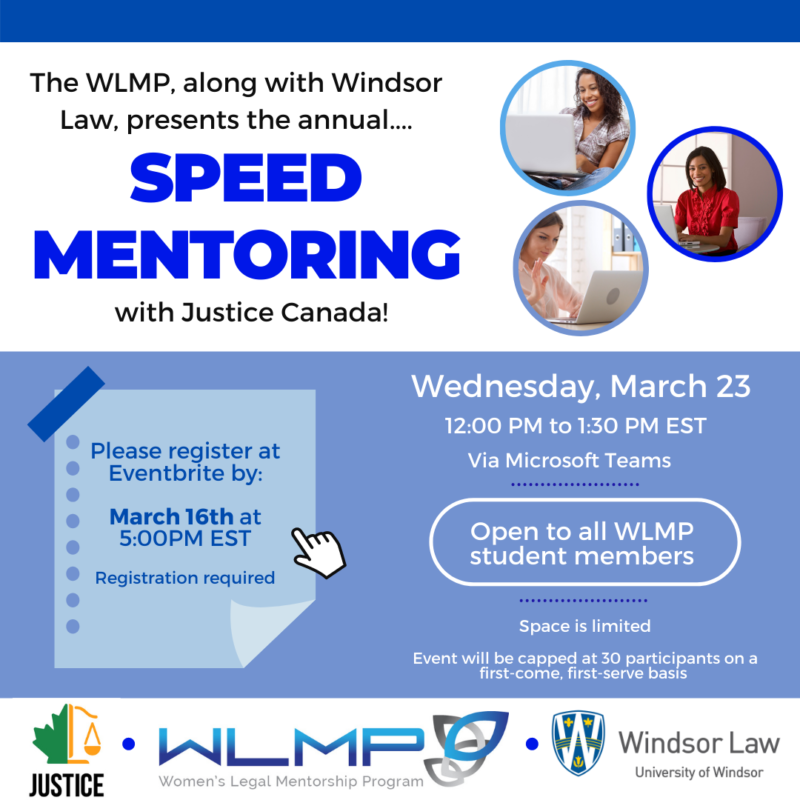 Français suit ci-dessous
The Women's Legal Mentorship Program (WLMP), in collaboration with the Advisory Committee on Women at Justice Canada (ACWJ) and Windsor Law is excited to bring you the annual speed mentoring event!
Wednesday, March 23, 2022 from 12:00 PM to 1:30 PM (ET)
Via Microsoft Teams
Open to all registered WLMP Law Student Members.
What is it?
Speed Mentoring consists of a series of short, focused conversations. In terms of format: 30 female student Mentees will cycle across breakout rooms for a period of approximately 10 minutes. In each breakout room you will have an opportunity to meet with female legal mentors from Justice Canada.
It will be a fun, fast-paced opportunity for each of you to raise a question or concern and leave with some important take-aways.
Who will I meet?
At this event, you will meet with counsel from diverse backgrounds who work in the National Capital Region as well in the regions. The background of counsel include service in the private and public sector with a mix of both legal and policy experience. Areas of expertise may include Constitutional law, Indigenous law, Immigration law, Tax law and Legislative drafting just to name a few.
Can I connect with Mentors after the event?
After the event, a point person at Justice Canada will receive your request, and if the requested Mentor is available you will receive their contact information. In the event that this Mentor is not available arrangements will be made for a Mentor in a similar field to be found for you if you are interested.
How do I register?
Registration is first come first served. Please register by Monday March 21, 2022.
Open to all currently registered WLMP Law Student Members.
We will prioritize students that haven't participated in the event in previous years.

Space is limited! The event is capped at 30 students.
Register through WLMP's Eventbrite by clicking: Register Now
---
Mentorat express – Ministère de la Justice, PMDF & Faculté de droit de l'Université de Windsor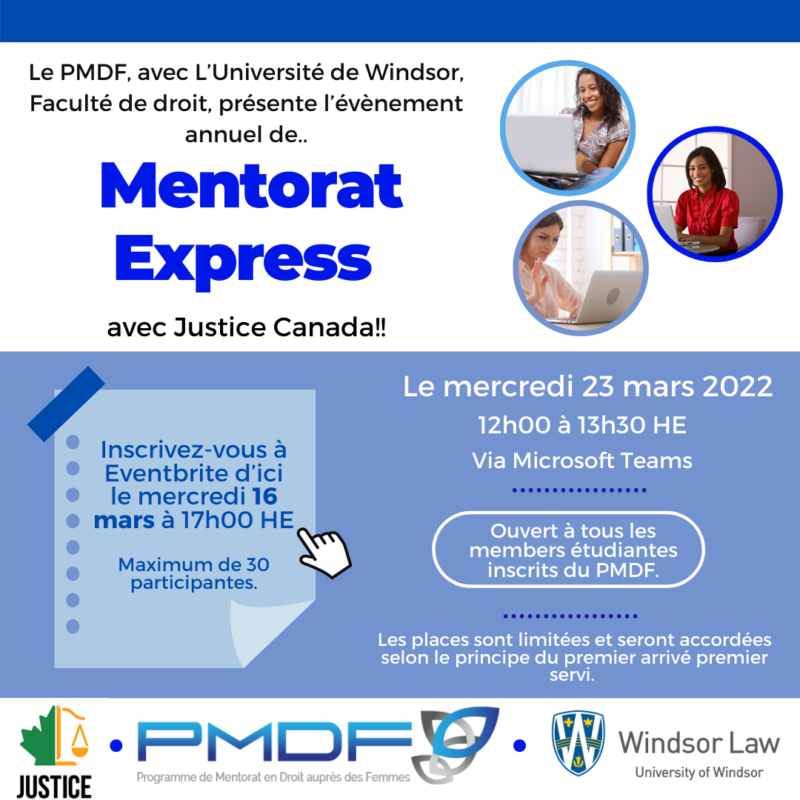 Le Programme de Mentorat en Droit auprès des Femmes (PMDF), en collaboration avec le Comité consultatif des femmes à Justice et la Faculté de droit de l'Université de Windsor, organise l'événement annuel de mentorat express virtuel!
Le mercredi 23 mars 2022
12 h à 1 3 h 30 HE
Via Microsoft Teams
De quoi s'agit-il?
Le mentorat express consiste en une série de conversations courtes et ciblées. L'événement se déroulera de la façon suivante : 30 étudiantes mentorées visiteront des salles de réunion virtuelles pendant une période d'environ 10 minutes. Dans chaque salle, vous aurez l'occasion de rencontrer deux conseillères juridiques du Justice Canada.
Ce sera une occasion amusante et rapide pour chacune d'entre vous de soulever une question ou une préoccupation et de repartir avec quelques points importants à retenir.
Qui vais-je rencontrer ?
Lors de l'événement, vous rencontrerez des conseillères juridiques avec des expériences variées qui travaillent dans la région de la capitale nationale ainsi que dans les régions. Ces conseillères juridiques ont travaillé dans les secteurs privé et public et ont une expérience à la fois juridique et politique. Les domaines d'expertise peuvent inclure le droit constitutionnel, le droit autochtone, le droit de l'immigration, le droit fiscal et la rédaction législative, pour n'en citer que quelques-uns.
Comment s'inscrire?
Les places sont limitées et seront accordées selon le principe du premier arrivé, premier servi. Maximum de 30 participantes.Inscrivez-vous d'ici le 21 mars
Ouvert à tous les membres étudiantes inscrits du PMDF.

Cet événement sera en anglais.

Nous prioriserons les étudiantes qui n'ont pas participé à l'événement les années précédentes.
Inscrivez-vous via l'Eventbrite du PMDF en cliquant : S'inscrire maintenant