The Women's Legal Mentorship Program ("WLMP") formally launched its national peer mentoring program this week.
It's the first truly national peer mentoring program for women law students in Canada. Starting this week, all eligible self-identifying female law students currently enrolled in a Canadian law school can sign-up for the WLMP Peer Mentoring Program.
"A national student program allows students across Canada to connect and build their professional network with future colleagues. Students are increasingly entering practice in different jurisdictions than where they went to school. A national peer mentoring program helps students navigate that transition" said Aimee Dezeure, third year law student at the University of Windsor, Faculty of Law and WLMP National Student Program Co-Lead for WLMP Virtual Events.
Until now, peer mentoring within professional faculties, such as law schools, has focused on getting university students through their degree. The idea that peer mentoring matching on a national level would be difficult because law schools are too different is one reason given. That law students in British Columbia wouldn't make good peer mentors to student attending an Ontario based law school.
According to the WLMP this traditional understanding of peer mentoring limits law student options and doesn't reflect the current reality of many law student graduates.
"A female law student studying in British Columbia can particularly benefit from working with a peer mentor in Ontario if they are interested in switching jurisdictions and practicing law in another province. For example, a B.C. law student can gain practical insight from an Ontario peer mentor, who is well-equipped in knowing the Law Society requirements to practice in Ontario. Making the B.C. law student's transition in a more seamless manner," said Aria Kamal, JD candidate at Lakehead University's Bora Laskin Faculty of Law and WLMP National Student Program Co-Lead for WLMP Virtual Events.
With the launch of its national student peer mentoring program, the WLMP continues to expand its ability to help self-identifying women develop a mentoring support system to help them throughout their legal careers from the classroom to the courtroom and beyond.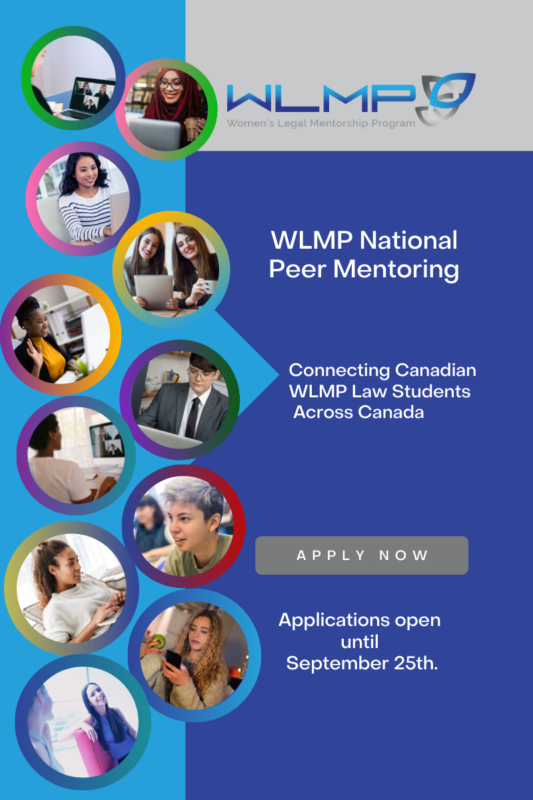 Any self-identifying female law student who is currently enrolled in a Canadian law school can become a WLMP Law Student Member and apply to the WLMP's National Student Program's mentoring programs.
Applications close on September 25th. Make sure to both join the WLMP by filling out your WLMP Law student Member form and also submitting your WLMP National Student Peer Mentoring Form before the deadline.