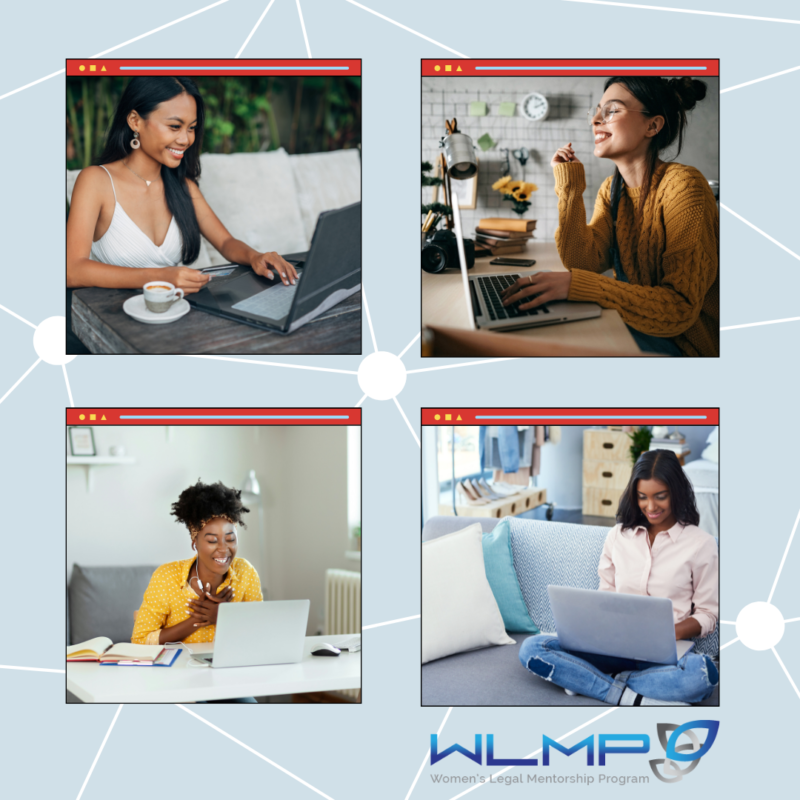 It can be hard to balance your desire to make a difference and your busy life. That's why the Women's Legal Mentorship Program (WLMP) offers Volunteer From Home (VFH) student leadership and volunteer committee opportunities.
All our national student leadership and volunteer opportunities are virtual. Allowing Each WLMP student leader or volunteer committee member the opportunity to make a difference in a way that fits their schedule.
Also, each volunteer leadership and committee opportunity posted lists the approximate hours per week required along with an idea of how you can help make a difference.
Plus, our volunteering applications focus on identifying each volunteer's skills and gifts. Helping you create lasting change by creating a braver space where you can bring your talents.
All WLMP National Student Program (NSP) leadership and committee groups work on a collaborative team based model. Each NSP leader or volunteer committee works on specific area and provides as many opportunities as possible for its team members to take on a lead role on a project.
Applications for National Student Volunteer Committees Opening Next Week
Events Committees – You will get to choose which event committee.
WLMP Local Leaders Committee – This committee is open to all WLMP law student members where you get the chance to represent that WLMP in your region.
Leadership Applications Opening for National Student Program Leaders Circle Opening Next Week
We hold our volunteer "hiring" process twice a year. During Spring and early Fall. Leadership Opportunities are open to all registered WLMP Law Student Members.
University Partnership Outreach – 2 Opportunities
Legal Community Outreach – 2 Opportunities
Great opportunity to volunteer with a national legal organization from where you live and on your schedule.
If you are already a WLMP Law Student Member, then watch your in-box! Information will included in the WLMP's e-newsletter The Spark.
If you are interested, email the National Student Leadership Program at: NatlStudent@wlmp-pmdf.ca
Details on how to apply will be released in our blog next week. Make sure to subscribe.