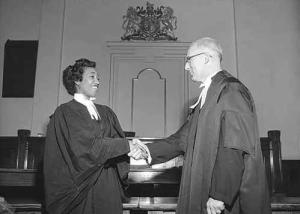 Violet Pauline King Henry (1930-1982), was the first Black Female Lawyer in Canada. But you won't find a Canadian Heritage Minute clip for her, and she's not listed on Historica Canada Education Portal timeline profiling Black Canadians throughout history.
Yet, when Violet King Henry (née King) graduated from the University of Alberta's Faculty of Law in 1953, she was became the first Black person to graduate from the U of A law school. In 1954, after being Called to the Bar, Ms. King Henry became Canada's first Black female lawyer.
Ms. King Henry was born on October 18, 1929 and grew up in Calgary. Her father, John,worked for the Canadian Pacific Railways (CPR) as a porter and her mother, Stella, was a seamstress. Growing up, Ms. King Henry was an active community leader. In grade 12, she became President of the Girls Association and expressed an interest in practicing criminal law.
n 1948, she entered the University of Alberta (U of A) and continued her community leadership and activism. She was Vice-President of the U of A Students Union and the university's representative to the Union of National Federation of Canadian University students. She was also an early second wave feminist. Violet King Henry was a member of the U of A Blue Stocking Club, which was a "general discussion group for women at the University of Alberta. The emphasis of the group was on history and public affairs." The club's name references the Blue Stockings Society in 18th century England. This was an informal group of educated and intellectual women who discussed the topics and issues of the day. A "bluestocking" referred to women participants, who apparently wore stockings.
Violet King Henry's Law School and Articling Years
When Ms. King Henry started law school, she was one of three women in the entire student body and was the only women to graduate from the U of A Faculty of Law in 1953. This is hard to believe given that today about a little more than 51% of Canadian law school graduates are comprised of female students. But it's true.
After graduation, she articled with a local Calgary lawyer Edward McCromick. However, she wasn't only interested in criminal law. Ms. King Henry apparently acted as treasurer for a local labour union.
Upon completing her articles, Ms. King Henry was admitted to the Alberta Bar in 1954, becoming Canada's first Black female lawyer as well as Alberta's first Black lawyer.
Violet King Henry's Legal Career and Beyond
After Ms. King Henry was admitted to the Alberta Bar, she practiced criminal law in Calgary. She worked at the law firm with A.M. (Milt) Harradence, a criminal lawyer who was eventually elevated to the Court of Appeal.
It's unclear when exactly an opportunity in Ottawa came up, but Ms. King Henry left Calgary for Ottawa to work in the Department of Citizenship and Immigration. She traveled the country meeting community leaders. In April 1956, she switched her Law Society status to a non-practicing member of the Alberta Law Society.
In 1963, she moved to the United States to work with the Newark, New Jersey, YW-YMCA as the associate general secretary. Ms. King Henry distinguished herself through her hard work and focus on helping unemployed Black persons find jobs. In 1969, she moved to Chicago and was named the Director of Manpower, Planning and Staff Development for the Chicago YMCA. Not much information is available about her years in Chicago.
However, in 1976, Ms. King Henry became the first woman appointed to a senior executive position in the American National YMCA. She took on the role of Executive Director of the National Council of YMCA's Organizational Development Group. Ms. King Henry credited her legal training as good preparation for social and community leadership work.
She died of cancer in 1982 in New York.
Not enough is known about Violet King Henry. We've included links to what little information we found on Ms. King Henry. We encourage everyone to learn more about Violet King Henry by reading Rachel K. Bailie's article entitled "Minority of One: Violet King's Entry to the Legal Profession" on the Canadian Legal History Blog by clicking here.
We are reposting our article on Violet Pauline King Henry, Canada's first black female lawyer, written by Charlotte Wolters, WLMP Founder and published in 2016 because everyone should know her name.