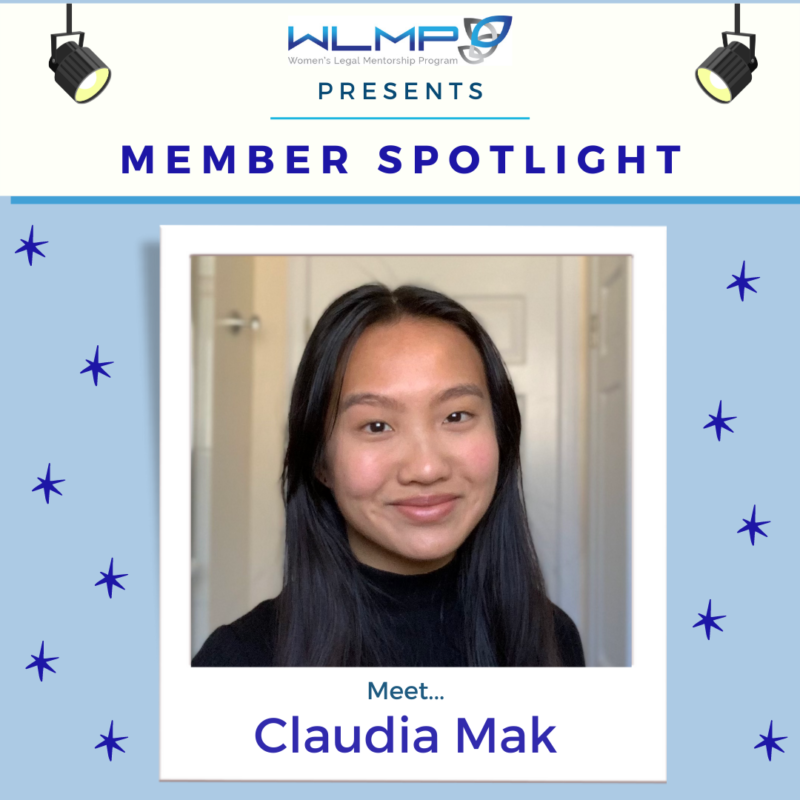 Meet one of our amazing Women's Legal Mentorship Program (WLMP) Law Student Members – Claudia Mak. Claudia is a first year (1L) law student at the University of Windsor, Faculty of Law.
Claudia also participates in WLMP mentoring is one of our amazing mentees. We asked Claudia about about how participating in the WLMP has shaped her experience in law school so far.
"As someone who didn't know how to approach mentorship nor had connections to lawyers, I really appreciate WLMP's student-lawyer mentorship program. I was able to build a relationship with a supportive lawyer in a practice area that interests me. Hopefully one day as a practicing lawyer, I will be able to pay it forward to another 1L student," says Claudia.
Thank you Claudia for sharing how the WLMP has helped you in your experiences as a 1L at Windsor Law. We are so appreciative for all Claudia and our WLMP Member mentees and mentors do to support the WLMP community and legal community.
Currently a WLMP Law Student member and want to be featured? Then email us at: comms@wlmp-pmdf.ca.
If you are a Canadian lawyer looking to mentor a WLMP law student member or if you are a law student who is enrolled in a Canadian law school program, learn more about joining the WLMP.