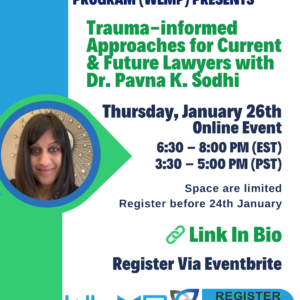 Women's Legal Mentorship Program (WLMP) presents: Trauma-informed Approaches for Current and Future Lawyers with Dr. Pavna K. Sodhi
During this WLMP webinar, Dr. Pavna K. Sodhi will discuss various therapeutic and decolonized approaches to supporting clients who have experienced trauma. Dr. Sodhi will provide an understanding of what trauma is, how trauma manifests, therapeutic processes to overcoming trauma, and trauma-informed and culturally responsive approaches legal professionals, no matter where they are in their legal career, can integrate into their practice.
This online event is open to all WLMP members. You must be a member to attend, and identity and membership verification will occur during registration.