It's January and start of a new year. But what a start it's been. With the ongoing Covid-19 variants and shifts in what's happening, it can get overwhelming. With everything that is going on it's good to remember things that are okay to do and ask for.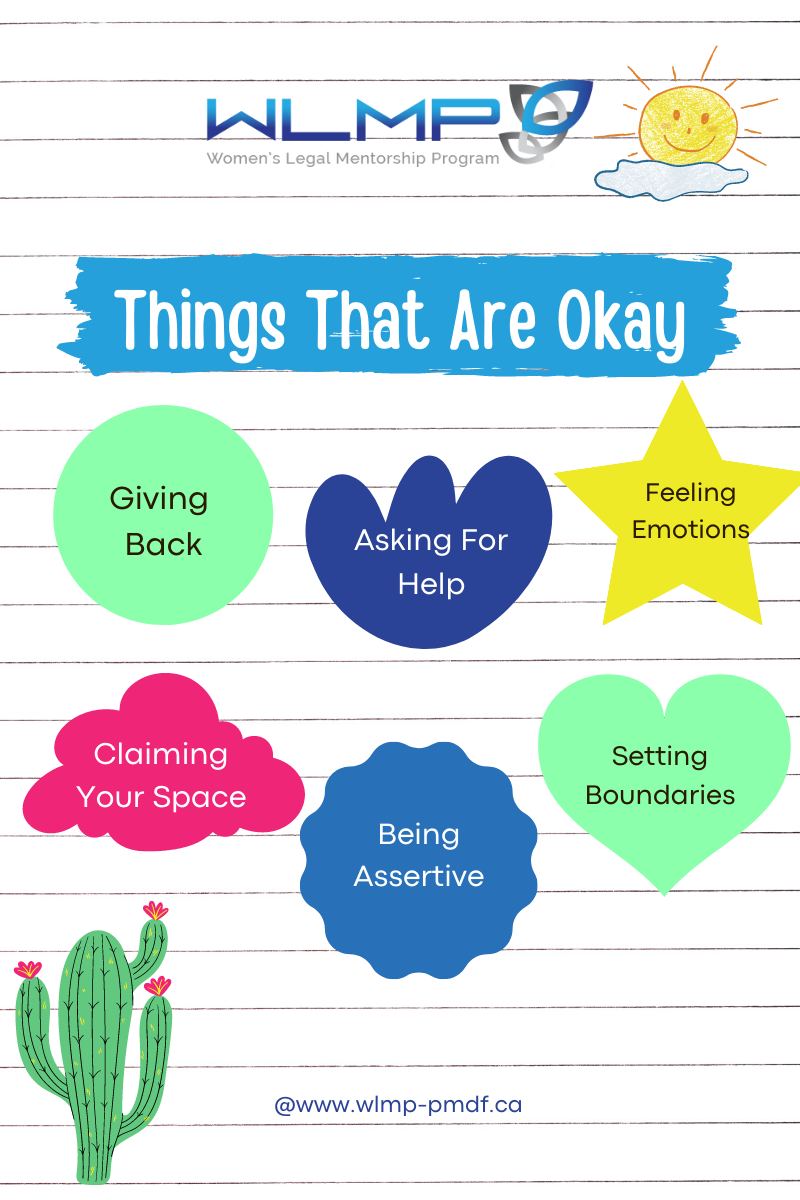 Remember it's okay to…
Feel Emotions. Emotions help you communicate with other people. They can help you make decisions. They help you avoid danger. They help you understand others and in turn others can better understand you. Having emotions and feeling them is perfectly okay.
Asking for Help. Everyone needs help. It's important to ask for help when you need it. Helping each other is crucial to community building. It's also the reason why many people decide to go to law school and become lawyers. To help others. But that doesn't mean you don't need help, or you shouldn't ask for help when you need it. WLMP mentoring is rooted in a desire to help others in an equitable and positive way. Asking your WLMP mentor or others in your community for help when you need it is okay.
Claiming Your Space. Women, LGBTQIS2+, non-binary, gender non-conforming, BIPOC persons and persons with disabilities are constantly questioned openly and subtly about the spaces they are in. Public spaces. Social media spaces. Political spaces, Professional spaces (like assuming you're an assistant and not legal counsel) and the list goes on. You deserve to be where you are. It's okay to claim your space.
Being Assertive. Assertive is not aggressive. They are two different things. Again, when women, LGBTQIS2+, non-binary, gender non-conforming, BIPOC persons and persons with a disabilities assert themselves they are labeled as "intimidating" or "troublemaking".

That's not okay

. Being assertive means you are communicating clearly, constructively and consciously. Assertiveness is built on self-awareness and understanding of your needs and the needs of another are both important and they deserve to be respected. Aggressiveness is the opposite. Remember it's okay to be assertive.
Setting Boundaries. Setting boundaries is important. Setting boundaries isn't about being defensive of closed off. It's about holding true to yourself and your values. By setting boundaries you are showing self-compassion and kindness. It's okay to set boundaries and communicate them clearly.
Giving Back. It's more than okay to give back. Whether it's volunteering, donating your time by mentoring or advising pro bono, giving back is good. Giving back connects you to others. It's good for your mental health. Giving back opens up new opportunities and you help create change.
Remembering things that are okay to do and that it's okay to ask for help may be a little thing, but it can generate a lot of positivity and good feels.
If you're a Women's Legal Mentorship Program (WLMP) Legal Mentor or Peer Mentor or WLMP Student Mentee, consider asking your WLMP Peer Mentor or Legal Mentor about how they claim their space, set boundaries or deal with things. Remember reaching out to your mentor or mentee is okay too.