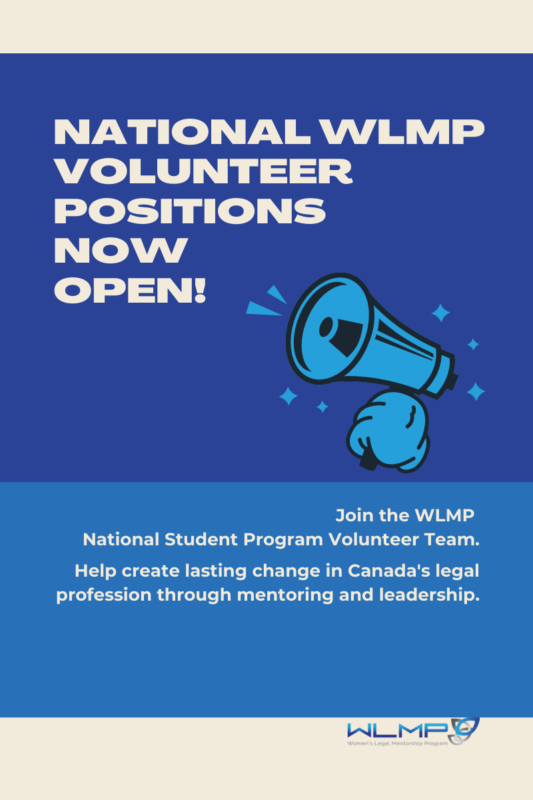 Looking to share your talents on a national level? Do you believe in creating lasting change through legal mentorship and leadership programming? Then apply to become a volunteer with the Women's Legal Mentorship Program National Student Program.
The Women's Legal Mentorship Program (WLMP) annual call for student volunteers is now open.
The WLMP is focused on dismantling systemic barriers facing self-identifying women in the law (which includes LGTBQI2S+, non-binary, gender diverse and BIPOC communities), whether law students or lawyers within the Canadian legal profession.
That's why our volunteer intake and assessment process is different from other programs.
The WLMP assesses its volunteers based on their specific talents or gifts that a volunteer has to offer their fellow WLMP members.
Instead of making a volunteer fit in a box, we assess each volunteer based on their specific talents, gifts and skills and work with them to identify where their special skills can best help the WLMP Mentoring Community.
To volunteer with the WLMP National Student Program, a volunteer should be:
actively enrolled in a law program at a law school in Canada;
registered as a WLMP law student member (membership is free);
enjoy working with a team spread out across Canada focused on serving the WLMP Mentoring Community and creating change within the legal profession; and,
Applications for the first Call for WLMP National Student Program Volunteers ends on September 3, 2021.