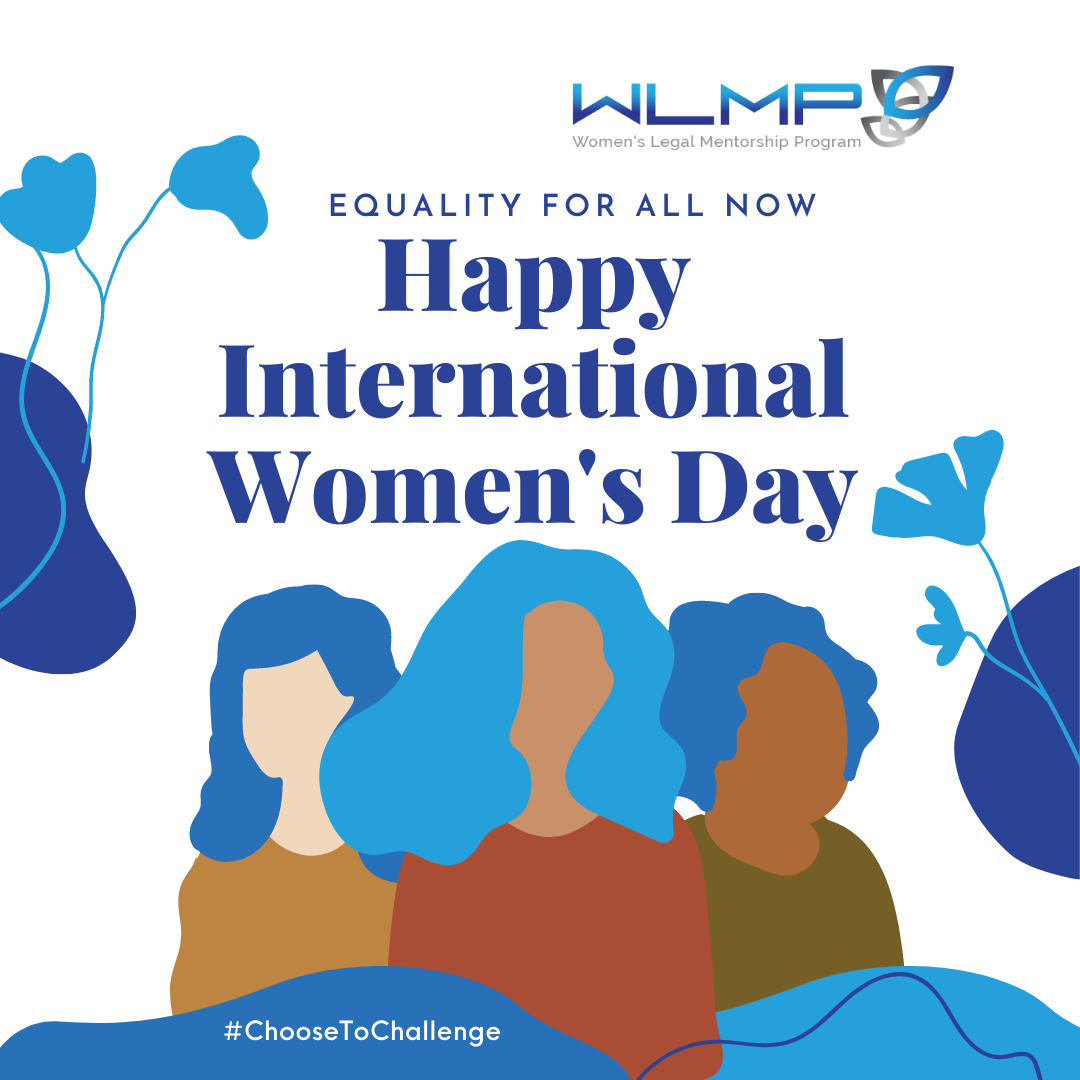 Happy International Women's Day!
Today we come together and stand together. Working towards ending the systemic barriers facing all self-identifying women. Let's face it, there's a lot! It's also a day we renew our commitment to challenging society and advocating for equality for all.
How will you #ChoosetoChallenge today's barriers to build a better tomorrow?
The Women's Legal Mentorship Program (WLMP) chooses to open up mentoring and leadership opportunities for all self-identifying womxn in the law.
For us, this includes non-binary, LGBTQ2S+ and BIPOC women. Because our feminism and mentorship is rooted in intersectionality.
In the coming months, the WLMP will be offering more events, opening up our Spring Student-Lawyer Mentorship Matching, expanding our National Student Program leadership opportunities and much more.
Standing together and standing by each other through mentorship and in allied community is how choose to challenge and advocate change.
–XO XO the WLMP
---
Comment nous prévoyons de choisir le défi
Bonne journée internationale de la femme !
Aujourd'hui, nous nous réunissons et nous sommes unis. Nous nous efforçons de mettre fin aux obstacles systémiques auxquels sont confrontées toutes les femmes qui s'identifient comme telles. Regardons les choses en face, il y en a beaucoup ! C'est aussi un jour où nous renouvelons notre engagement à remettre en question la société et à défendre l'égalité pour tous.
Comment allez-vous #ChoosetoChallenge les obstacles d'aujourd'hui pour construire un meilleur avenir ?
Le programme de mentorat en droit des femmes (PMDF) a choisi d'ouvrir des possibilités de mentorat et de leadership à toutes les femmes qui s'identifient comme telles dans le domaine du droit. Pour nous, cela inclut les femmes non-binaires, LGBTQ2S+ et BIPOC. Parce que notre féminisme et notre mentorat sont ancrés dans l'intersectionnalité.
Dans les prochains mois, le PMDF proposera davantage d'événements, en ouvrant notre jumelage de printemps entre étudiants et avocats, en élargissant nos possibilités de leadership dans le cadre du programme national des étudiants et bien plus encore.
C'est en restant ensemble et en se soutenant mutuellement par le biais du mentorat et dans la communauté des alliés que l'on choisit de remettre en question et de préconiser le changement.
–XO XO Équipe PMDF